The 2020 Volvo V90 Cross Country Wagon Brings Unsurpassed Luxury and Perfection in Performance to Golden Valley
If you are in the Minneapolis area and are looking for a luxury station wagon with almost everything you could want as a standard feature, then the new Volvo V90 Cross Country at Borton Volvo Cars will likely fill the bill.   
New Volvo V90 Inventory
Sorry, no items matching your request were found.
Reset Search
Vehicle Overview
The new 2020 Volvo V90 Cross Country is a premium, luxury vehicle-inside and out, replete with wood trim and leather upholstery. The Volvo V90 Cross Country is powered by a powerful four-cylinder engine. All-wheel drive is standard, as are several advanced driver safety features. 
The primary difference between the Volvo V90 and V90 Cross Country is that the latter has a raised suspension. 
The standard four-cylinder engine is both turbo- and super-charged, producing an impressive output of 316 horsepower. 
Volvo's legendary steering and handling characteristics with its agile and smooth ride are due to an aluminum double-wishbone suspension.  Even more impressive is the ability to choose the ride you prefer to match the road ahead or your mood.  Based upon your choice between comfort, dynamic, eco, off-road and individual mode, you can alter the steering, brakes, gearbox, engine, and stability control systems to alter the characteristics of the ride.  The individual mode is one that you can tailor to your favorite style of driving.  The off-road mode switches on all-wheel drive. 
Advanced Driver Safety Features
The 2020 Volvo V90 Cross Country has many advanced driver safety features that come standard.  These include:
Automated emergency braking:  This mode detects when a pedestrian is walking in front of your Volvo V90.  You will first be given a warning.  If you don't heed the warning, the next warning will be the vehicle automatically stopping itself in order to avert an accident.
 
Pedestrian detection: Detects when a pedestrian is in your path and issues a warning. 
Adaptive Cruise Control: When the cameras and sensors in your Volvo V90 note a slower-moving vehicle, they will lower the speed automatically. 
 
Semi-autonomous driving mode: Semi-autonomous driving mode is when a car can steer, stop, change lanes, accelerate and decelerate on its own.  They are not fully driverless.
Intelligent Lighting Technology: As so many of us have observed, the problem with LED in headlights is that they are overkill in most of their current iterations on the road.  The 2020 Volvo V90 has LED headlights that switch automatically between low- and high-beam to provide the most possible road illumination while not endangering oncoming drivers.
One step up is a type of technology to allow the headlamps to be in high beam all of the time, without being blinding to other drivers on the road.  The V90 Cross Country also has Active Bending Light technology that bends in relation to the steering wheel to allow you to see better into corners. 
Interior
Nappa leather seating and linear walnut accents throughout provide a luxurious look and feel throughout the cabin.  A moonroof is standard as is a powered sunshade.
Since the Volvo V90 Cross Country is capable of taking you out in the backcountry, cargo capacity for bicycles, kayaks, etc. becomes essential.  Volvo demonstrates by their ergonomic design that they are totally focused upon what the customer wants and needs.  For example, the low roof-line of the V90 Cross Country is purposefully low-slung for those who transport their bicycles and kayaks on their car's roof. 
The load compartment is large and can be expanded by lowering split-folding seats.  Another load compartment is under the floor.  Thoughtful features for keeping the cargo from sliding all over the back of your vehicle include tie-down hooks, a load net, shopping bag hooks, and a bag holder. 
There is also a hands-free means of opening the tailgate.  You just move your foot under the sensor under the bumper.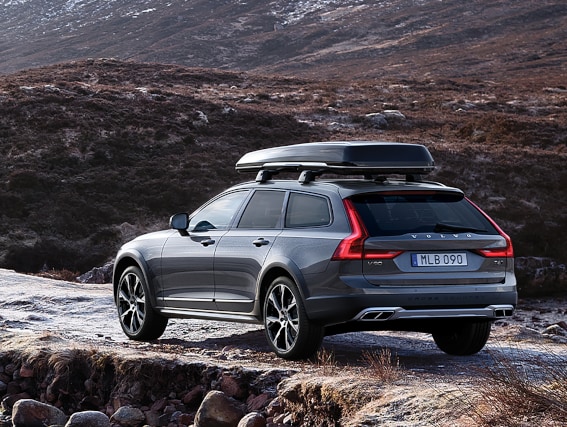 Technology
The nine-inch Sensus touchscreen in the center display is thoughtfully in portrait orientation for easier reading and map viewing.  The touchscreen will even work when you have gloved hands.  You can use voice control to change the thermostat setting and use the navigation assistance as well as your media and phone. 
The touchscreen has connectivity through Android Auto™ and Apple CarPlay®.  When you plug your phone in, the lower half of the screen is your phone's screen.  You can use all the functions of your phone, such as making calls or surfing the internet, right on the touchscreen.  You can also use the voice commands. 
The audio system is top-of-the-line.  There are 15 speakers that output from a Bowers & Wilkins audio system.  The subwoofer even takes in some air from the outside to make your bass sound deeper.  Also, there are three different listening modes-Studio, Individual Stage, and Gothenburg Concert Hall.  The audio system automatically changes the level adjustments to an optimal listening level as conditions change while driving near St. Paul. 
Trim Options
There is one trim model available for the 2020 Volvo V90 Cross Country.  The Adventure trim has 19-inch black alloy wheels, black walnut accents for the interior, leather upholstery, a driver-assist function that helps keep you in your lane, dual tailpipes and the audio system previously described.  You can choose a color and type for the leather seating. 
Options include a parking assistant, heated rear seats, a roof box, a bicycle holder, load carrier rails, a kayak carrier, Volvo service contracts, and prepaid maintenance plans. 
Test Drive the 2020 Volvo V90 Cross Country Near Eden Prairie
When you are ready for your test drive of the new Volvo V90 Cross Country wagon, call or email us at Borton Volvo Cars, serving Minnetonka.