New Volvo XC90 For Sale in Golden Valley MN

Meet the Elegant and Spacious 2021 Volvo XC90
Getting your family where they need to go has never been easier to do in style than it is with the 2021 Volvo XC90 SUV. As a full-size SUV that offers third-row seating in a premium, luxury setting, the 2021 Volvo XC90 gives you room for up to seven passengers and more than enough cargo space to go. Excellent handling, exemplary standard safety and tech features, and sprawling second-row and third-row seating set this SUV apart from all others that have come before it in Minneapolis. With more style than you could ask for, the Volvo XC90 is also Volvo's largest vehicle, which is proof that you do not have to sacrifice one element for the other.
In recent years, the Volvo XC90 has received its fair share of upgrades, so not many new features found their way into the 2021 model. However, a wireless charging pad, adaptive headlights, and front parking sensors did emerge in the 2021 Volvo XC90. Consumers cannot get enough of these simplistic upgrades that make a big difference in this SUV. To keep you on your toes, a slight change-up in the interior trim colors and designs along with upholstery color scheme modifications have also seen a slight change-up in this model year.

Our efforts are directed toward presenting accurate and complete information. But errors can arise in pricing, mileage, financing terms, descriptions, availability or other content in the site.

When errors occur, we reserve the right to make corrections and adjustments as needed with our apologies.
Safety Feature Integration
You only want the best and most safe SUV for your family and passengers in Golden Valley, and that is what you will get in the 2021 Volvo XC90. As a luxury SUV that is surprisingly affordable, the XC90 offers all the most desirable safety traits at a cost that is attainable. While this SUV has all the most basic safety features included in its standard lineup, there are a few safety elements that blow the competition away and stand as reliable consumer favorites. These safety facets include:
Volvo On Call: An integrated safety service that alerts owners and emergency service providers of any accidents or vehicle theft. It also provides access to routine services like vehicle locking and unlocking capabilities.
360-Degree Surround-View Camera Integration: Creating a bird's eye view of the vehicle, this feature allows drivers to maintain awareness of objects around the vehicle that could be potentially hazardous. This is different than other models that solely focus on areas around the vehicle.
Lane-Keeping Assist: The Volvo XC90 senses when it travels out of its lane and assists by providing steering adjustments as needed to maintain its space in the proper lane of travel about St. Paul.
Overall, the 2021 Volvo XC90 has landed exemplary ratings from national safety rating agencies, which makes it known that this SUV is dedicated to take the essential measures necessary to keep drivers and passengers safe on their Minnetonka journey.
Interior and Tech-Based Facets
The interior of the Volvo XC90 and the technology features within this SUV are often intertwined. Base models, including the Momentum and R-Design, will enjoy the views of a panoramic sunroof, the ease of a hands-free rear liftgate, and the comfort of four-zone automatic climate control. Memory seat settings in the driver area make comfort and convenience effortless, while a 9-inch touchscreen complete with a navigation system leads the way for drivers of the XC90. An audio system complete with ten speakers and integration with Apple CarPlay and Android Auto also entertains passengers along the way.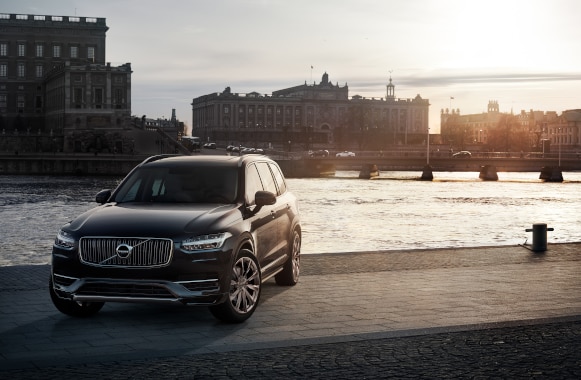 Trim Option Selections
Volvo keeps it simple with most of their models by offering three different trim level selections. This continues in the 2021 Volvo XC90, which features this automaker's signature three trim level options of the Momentum, R-Design, and Inscription. From basic to sporty to luxury, buyers can choose the vehicle image they wish to immerse themselves in by choosing one of these options. While the base Momentum is well-equipped, the athletic R-Design gives a sharper look and bolder design. Still yet, the luxury Inscription features everything you could want in a premium SUV in Eden Prairie.
This automaker is also one of the only ones who also offers varying engine options in addition to the three pre-existing trim level selections. A T5, T6, or Recharge engine selection can be paired with different trim level options to create an even more distinctive and unique vehicle overall. The T5 represents a 2.0-liter 4-cylinder engine that is turbocharged, the T6 is supercharged, and the Recharge is a hybrid engine option. While the T5 cannot be paired with all-wheel drive, the Recharge is also pricey. That leaves the mid-level T6 as the most popular engine option for the 2021 Volvo XC90.
Model Feature Evolution
The Volvo XC90 was not always as upscale and well-equipped as it is now. Created in 2002, this model saw its first generation produced in China through 2013 and enter its second generation of production in 2014. This mid-sized luxury SUV utilized a SPA platform for its seven-passenger format, but it was not always this way. Introduced as a five-passenger and seven-passenger model, the XC90 has only grown over the years.
In 2011, the XC90 moved to a seven-passenger seat version, and the next year it gained different engine selections that had never been seen before. The 3.2-liter 6-cylinder engine remained a staple for this SUV's lineup until 2016, when it moved to a four-cylinder turbocharged or supercharged engine option. This model stayed in effect as the only option until 2020 in a front-wheel-drive or all-wheel drivetrain setup until it saw the introduction of a plug-in hybrid powertrain, as well.