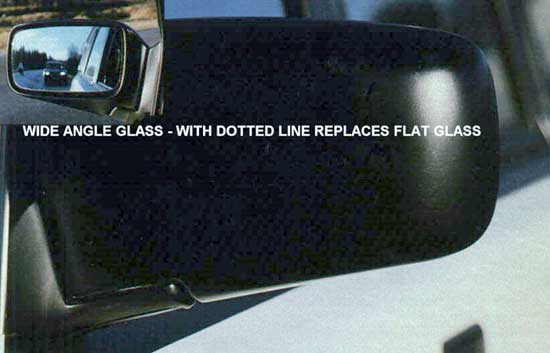 Volvo Aspheric - since 1979
Rear View Mirror Glass
What is the advantage of wide-angle glass? The rear view image is on a single reflective plane, whereas a stick-on convex mirror gives you two conflicting images. To solve this problem, Volvo engineers were able to incorporate both convex and wide-angle-aspheric on a single glass plane enabling you to decipher in one glance what is in your blind-spot!
Glass available for models and years below:
2011-2018 S60: LH or RH  $89.95 (not auto dimming)
2015-2018 S60 LH or RH auto dimming glass $169.95
---
2010-2017 XC60 LH or RH Standard $89.95 ea. (no auto dimming function, but is heated and will work in auto dimming cars.)
2015-2017 XC60 LH or RH Auto Dimming $179.95 ea.
2018-> XC60  LH Standard, Auto Dimming, Auto dimming and BLIS $129.50
---
XC90 LH or RH 2016-present Auto Dimming & BLIS $179.95
XC90 LH 2016-present Auto Dimming No BLIS $179.95
XC90 RH 2016-present Auto Dimming No BLIS $128.95
XC90 LH  2016-present Standard $89.95
XC90 RH 2016-present Standard $128.95
---
S90 and V90 or V60 and S60 2019- LH or RH 2017-present Standard $89.95
S90 and V90 or V60and S60  2019- LH or RH 2017-present Auto Dimming & not BLIS $89.95
S90 and V90 or V60 and S60  2019- LH or RH 2017-present Auto Dimming & BLIS $89.95
V90CC LH 2017-present Standard $99.50
V90CC LH 2017-present Auto Dimming $129.50
V90CC LH 2017-present Auto Dimming and BLIS $129.50
XC40 LH 2019-Auto Dimming and BLIS $207.50
XC40 RH 2019-Auto Dimming and BLIS $207.50