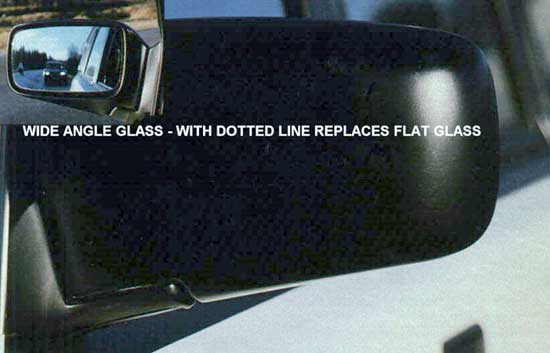 Volvo Aspheric - Mirror Glass
What is the advantage of wide-angle glass? The image or reflection is on a single plane unlike a stick-on convex mirror that glues to your flat glass. On the stick-on one, it takes more time to process the flat image and then the convex image, forcing you to spend more time looking in the mirror rather than on the road ahead!
Glass available for models and years below:
2007- 2009 S60, 2007-> V70: $89.95 LH & RH
2007-> S40, V50, S80 C30: $99.95 LH & RH

2011-> S60: LH $89.95 RH $89.95 - New LH auto dimming glass $169.95
---
2010-2017 XC60 LH or RH Standard $89.95 ea. (no auto dimming function, but is heated and works in auto dimming cars.)
2015-2017 XC60 LH or RH Auto Dimming $179.95 ea.
---

XC90 LH or RH 2016-present Auto Dimming & BLIS $179.95
XC90 LH 2016-present Auto Dimming No BLIS $179.95
XC90 RH 2016-present Auto Dimming No BLIS $128.95
XC90 LH 2016-present Standard $89.95
XC90 RH 2016-present Standard $128.95
---
S90 or V90 LH or RH 2017-present Standard $89.95

S90 or V90 LH or RH 2017-present Auto Dimming & not BLIS $89.95

S90 or V90 LH or RH 2017-present Auto Dimming & BLIS $89.95
V90CC LH 2017-present Standard $99.50
V90CC LH 2017-present Auto Dimming $129.50
V90CC LH 2017-present Auto Dimming and BLIS $129.50

2018 XC60 LH Standard, Auto Dimming, Auto dimming and BLIS $129.50